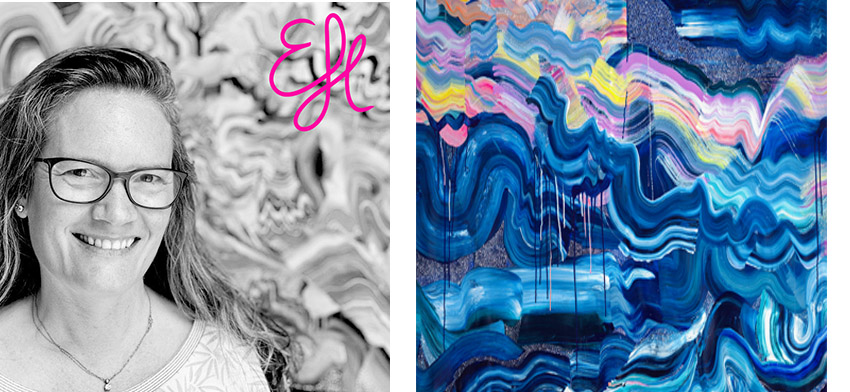 We are proud to introduce our first Artist-Lead collaboration with UK based Painter.
Emma Hill.
Welcome Emma, How long have you been a painter and could you tell us a bit more about your Style?
Hello. I've been painting for as long as I can remember and have been exhibiting and selling my Artwork for 20 years. My paintings are abstract based on may layers of paint, created with wide meandering brushstrokes, thick swipes, zig-zags and long drips, intricately brought together by tiny dots. I paint intuitively, inspired nature; by the sky, sea and landscape.
What has been a break through moment for you?
In 2019 I won the Liberty Open Call with my painting 'Graffiti Summer which was transformed into a repeat pattern print for Liberty Stores in multiple colourways on silk, satin and Tana Lawn. The BBC documentarty 'One Day that Changed my Life' followed my painting process.
When did you first realise you wanted to paint?
I always knew I wanted to paint but I've gone through stages of insecurity. I didn't get into Art College, so I went to Uni and studied Art history and Scandinavian studies instead. But I'd say my real artistic education came through my 8 year employment as BA cabin crew, during which I searched the world for art and amassed a huge library of beautiful books. I am also half English and Half Norwegian and I think my background also feeds back into my work.
Could you tell us a bit about your painting process?
Yes, I paint intuitively guided only by feelings. I paint a base layer, starting a conversation. It begins urgently. It's immediate, fresh and raw. I work into it, and it becomes confrontational. Paint is added and wiped away. Just as I find balance and harmony.
My paintings explore my memories and experiences of nature, the sea, the sky and the landscape. I use colour to convey the energy of these and the mark-making expresses my emotional response and associated memories of a time and place, holding the true essence by creating a visual dreamscape.
How have you found collaborating with us?
Collaborating with BomBette has been a exciting venture for me as its brought a new dimension to my artwork by fundamentally expressing my vision in a alternative way. I truly believe that creativity and art are imperative for wellbeing, nourishing the soul. While you can immerse and daydream while viewing my paintings, BomBette has made it possible to wear it and feel that joy through self expression.
What does the future hold?
This year (2021 I am delighted to have a new range of limited-edition Love Heart prints and i aim to extend my print and product range. In my painting, I continue to express myself intuitively in abstract pictures, exhibiting in shows both virtually and in reality.
My next painting project is based on exploring themes to paint pictures in response to people and places, this will compliment my Artist Journal from my cabin crew days: Art Culture Vulture, 2000-02.
At present I'm working towards producing a podcast 'Art Seeker Stories' which pulls everything together, continuing the conversations I had back then, incorporating new stories of art and creativity today. Sharing Stories and experiences, my own and of other artists, to inspire others, to give a sense of unity, belonging and community, expressing individuality, diversity and inclusion.
I will also continue my work as an Art Instructor at Arthouse Unlimited, a charity presenting the artistic talents of adluts living with learning and physical difficulties, working on projects either in their studio or remotely, focusing on art and inclusion.
And at the end of the year my Liberty fabric designs are to be published in the upcoming Bloomsbury Book 'The Fundamentals of Printed Textile Design" by Alex Russell.
Thanks for your time and your wonderful designs Emma.
Emma Hill's work has also been featured in Create! Magazine, Sew, Homes and Antiques, Artbox, Absolutley London and Canary Wharf City Life.